Methodology
Work Cycle Model and Survey Design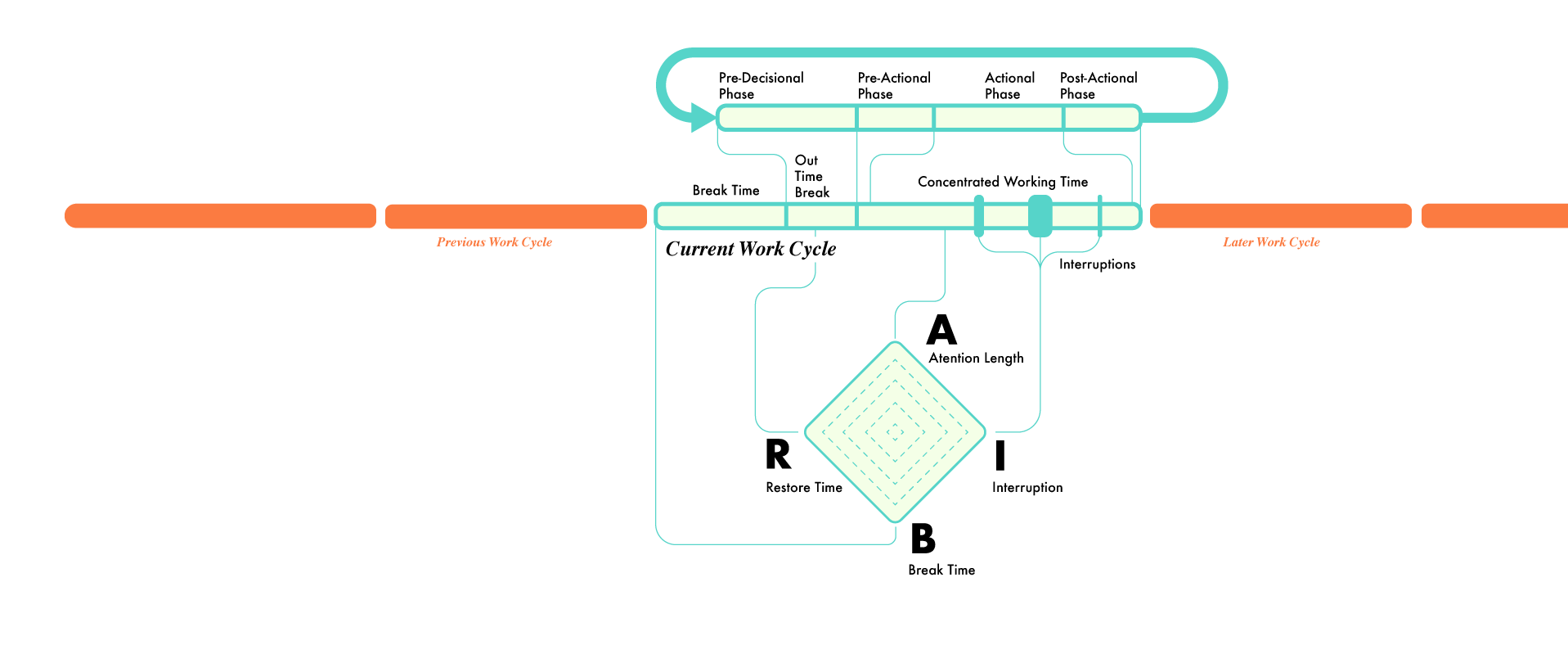 The investigator used four parameters to measure people's work behavior patterns. Length of break time illustrates the interval between the Post-Actional Action Phase and the Pre-Decisional Action Phase in the next cycle. Length of break timeout means the time is exceeding the planned time for a break when people lack track of time during a break. This parameter is related to the Pre-Decisional Action Phase. Because if break time exceeds the planned duration, it shows the deliberative mindset of teleworkers' values working less than relaxation. The length of attention time means the time people conduct work-related tasks. This parameter is directly related to the Actional Phase.
The level of interruption shows extrinsic factors that influence telecommuters' workflow. By using these four parameters, the thesis can illustrate teleworkers' types of work behavior patterns (WBPs).
An online survey was used to investigate these four parameters in order to differentiate types of teleworkers and set a holistic understanding of telecommuter's char- acteristics in their VWE. This survey was designed to investigate how these four different parameters vary from person to person. After that, the investigator mapped their answers into a radar graph in order to categorize respondents by their behavior.
Survey Results and Analysis
Each Spider Plot is A Survey Response

The results of the online survey.
There were 29 respondents participating in Survey 2. 55.2% of respondents are male. And 62.1% of respondents claimed they are designers, and 72.4% of the respondents claimed they are students. The age of participants ranges from 23 to 40 years old. Near half of the respondents considered themselves as researchers (48.3%) or problem solvers (51.7%) at work. And all respondents were currently working from home.
Categorization of Responses (Affinity Map)
Each Row is A Category of Responses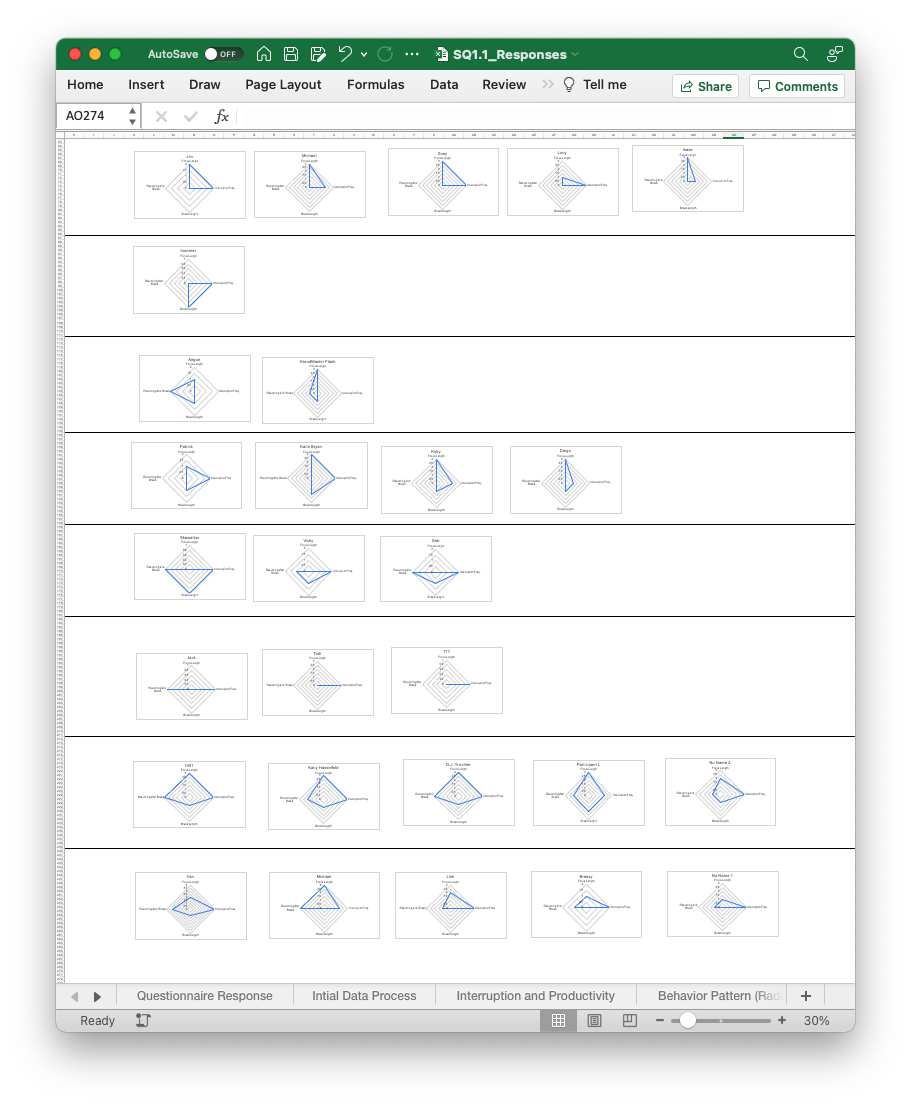 Each row is a category of responses.
As a result of this survey, there are 11 types of work behavior patterns (WBPs) have been identified. Moreover, in these 11 WBPs, the majority (82.8%) of the respondents are categorized into 6 major types of WBPs (Table 3.2). These 6 types of WBPs are regarded as the typical working behavior patterns in VWEs and are named in acronyms after these four parameters that are utilized in the investigation.
6 Typical Types of Teleworkers

These 6 major types are Type A.I.R., Type, I.B.R., Type A.I.B., Type A.I., Type I., Type A.B. The naming of the types is an acronym which consists of the parameters identified in the type. The letter A represents teleworkers can focus their attention on work-related activities for a long time. The letter I represent that teleworkers have a low frequency of encountering interruptions during work. And letter B stands for teleworkers take a short break during work. Letter R means teleworkers can restore their work state as soon as they take a break.